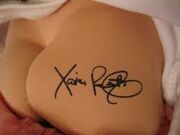 Write the first paragraph of your article here.
Xavier Roberts was born on October 31, 1955, Cleveland, Georgia, the inventor and manufacturer of Cabbage Patch Kids, is an American artist and businessman. During the American Folk art movement of the late 1970s, Roberts observed several techniques involving the making of dolls from various materials. Influenced by the quilts that his mother, Eula, made, he began experimenting with a quilted doll. After much experimentation, Roberts created a type of doll he called "Little People ". Roberts and a small group of friends began to travel from state to state in the southeastern U.S. attending folk art exhibitions. At these exhibitions, Roberts began selling these handcrafted dolls he called "babies". Going into business as Original Appalachian Artworks, Inc., Roberts started producing Little People in his hometown of Cleveland, at a converted medical clinic, which he rechristened "Babyland". The Little People evolved by 1982 into Cabbage Patch Kids, which quickly became a major toy fad. In 1984 alone, 20 million dolls were bought, and by 1999, 95 million had been sold worldwide.Edit
Originally written on wikipedia.org
Section heading
Edit
Write the second section of your article here. Don't forget to add a category, to help people find the article.
Ad blocker interference detected!
Wikia is a free-to-use site that makes money from advertising. We have a modified experience for viewers using ad blockers

Wikia is not accessible if you've made further modifications. Remove the custom ad blocker rule(s) and the page will load as expected.